St. Henry Professional Athletes
Four athletes from St Henry have continued careers at the professional level - Wally Post in Major League Baseball, and Jim Lachey, Bobby Hoying, and Jeff Hartings in the National Football League.
Walter 'Wally' Post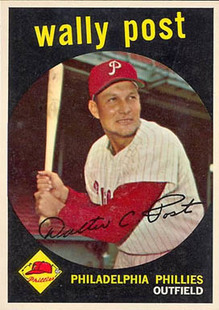 Walter 'Wally' Post (July 9, 1929 - January 6, 1982) was a right fielder in Major League Baseball. From 1949 through 1964, Post played for the Cincinnati Reds & Redlegs (1949, 1951-57, 1960-63), Philadelphia Phillies (1958-60), Minnesota Twins (1963) and Cleveland Indians (1964). He batted and threw right handed. In a 15-season career, Post was a .266 hitter with 210 home runs and 699 RBI in 1204 games.
​
A powerful slugger in the mid-1950's, he also was respected for his strong and accurate throwing arm. Post broke into professional baseball as a minor league pitcher in 1946 and was converted to an outfielder in 1949, the year of his majors debut. Post shuttled between the minor and major leagues for the next two years before finally staying with Cincinnati in 1954. His most productive season came in 1955, when he hit .309 with 40 home runs with 109 RBI, all career highs.

After playing for the Phillies, Twins, Indians, and in a second stint with the Reds, Post retired in 1963. He was inducted into the Cincinnati Reds Hall of Fame in 1965.

Wally Post died in St. Henry, Ohio, at age of 52.
---
Jim
Lachey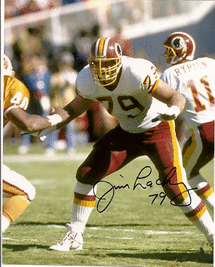 Jim Lachey (born June 4, 1963 in St. Henry, Ohio) is a former NFL offensive tackle who played for ten seasons with the San Diego Chargers, Los Angeles Raiders and the Washington Redskins from 1985 to 1995. Lachey played college football at Ohio State University and was a three time Pro Bowl player in 1987 with the Chargers, and 1990 and 1991 with the Redskins as a member of "The Hogs." He helped the Redskins win Super Bowl XXVI.

Lachey currently is a radio broadcaster for Ohio State University Football games.
---
Jeffrey Hartings
Je
ffrey Hartings (born September 9, 1972 in St. Henry, Ohio) is a former professional NFL center who is best known for his six-season tenure with the Pittsburgh Steelers.
Hartings attended St. Henry High School in St. Henry, Ohio where he was a two-time All-Conference selection, helped lead his team to the state championship as a senior, and finished his defensive career with 23 sacks and 200 tackles.

Hartings attended Penn State University, where he was a two-time All-American in 1994 and 1995 and was twice named Academic All-American. He was a first round draft (#23 overall) of the Detroit Lions in the 1996 NFL Draft. He signed with the Steelers as a free agent in 2001, where he moved from right guard to center. Hartings was a integral part of the 2005-06 Pittsburgh Super Bowl XI team. He has been selected to represent the AFC at the Pro Bowl twice (after the 2004 and 2005 seasons). Jeff retired from the Steelers and the NFL after the 2006 season.
---
Robert "Bobby" Hoying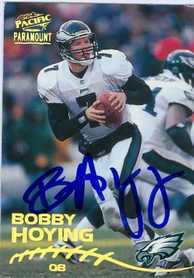 Robert "Bobby" Hoying (born September 20, 1972 in St. Henry, Ohio) attended St. Henry High School, where he helped to win a football and two basketball state championships.
​
Hoying played college football with the Ohio State Buckeyes. In 1993, he was named the Ohio State starting quarterback, and by 1994, Hoying acquired firm hold on the starting spot. In his career at Ohio State, Hoying completed 498 passes and 57 touchdown passes, both school records. He was an outstanding college student and was selected as an All Big 10 Scholar Athlete. Hoying was selected to the Ohio State Football All-Century Team in 2000.

Hoying was selected in the third round of the 1996 NFL draft by the Philadelphia Eagles. He played with the Eagles until 2000 when he was traded to the Oakland Raiders. Hoying retired after the 2001 season following a elbow injury.
​